Join RJ Lee Group and IONICON on March 10th and 11th for a free 2-day workshop that will focus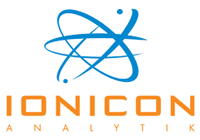 on the latest Proton Transfer Reaction - Mass Spectrometer technologies, techniques, and applications for air, breath, and gas monitoring of volatile organic compounds (VOCs). We've assembled the leaders in air and gas analysis to present their research as well as conduct hands-on demonstrations. This workshop will:
Present the latest PTR technologies including the new Time-Of-Flight 1000 series,

Share the latest work on breath analysis, explosives detection, atmospheric science, and environmental monitoring and agricultural applications,

Provide a forum for lively open discussions on technical and logistical application issues, funding opportunities, collaborations, and fundamental scientific issues in this field.
Application Case Studies
PTR-MS Time-of-Flight (TOF) for detection of explosive compounds, designer drugs, and breath analysis
Interfacing with other techniques, e.g., GC-MS, HPLC,
Mobile platforms for field applications
Monitoring Pesticide Drift of MITC from agricultural fields
Air Monitoring of Hanford Nuclear Tanks
Monitoring for TCE at the ASU Sun Devil's Experimental House in Utah
Visualization of data for effective presentation and customer needs
Software development, interfacing and future needs
And more! Download the complete agenda.
---
Hands-on Demonstrations
Bring your air or volatile solid and liquid samples to the workshop and we'll evaluate various parameters to determine the effectiveness of PTR-MS for your requirements. We will be using the high sensitivity Q500 system.
---
Event Details
If you're involved in real-time detection and monitoring of VOCs, you don't want to miss this free workshop. Download the agenda for a detailed listing of the presentations and events.
March 10, 8:00 AM – 6:00 PM
March 11, 8:00 AM – 5:00 PM
Speakers: Dr. Jim Conca, Dr. Jens Herbig, Dr. Joe Sears, Dr. Vince Hebert, Dr. Todd Rogers, Jacob McCoskey, Lukas Märk, Mark Kram
Location: Columbia Basin College, Pasco, WA
Complimentary lunches will be provided.
Transportation to and from the airport and select hotels can be arranged. Please contact Linde Thomas at lthomas@rjleegroup.com arrangements.
---
If you are interested in presenting research at the workshop, please email your abstract and title to Dr. Jim Conca at jconca@rjleegroup.